3 Days trip from Fez to Marrakech via Merzouga Desert
3 Days trip from Fez to Marrakech, is one of best desert tours in morocco . You will explore hight atlas mountain and sahara desert morocco in 3 days morocco desert tour.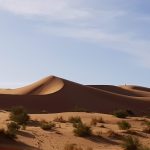 Day 1: Fez- Medelt – Ziz Valley- Merzouga desert.
Departure from Fez towards the desert crossing the Middle Atlas and passing through the national park known for the cedar forests, where you will find the famous Barbary apes. Then we will travel through the Ziz valley that will lead us to Erfoud known for its fossils. Arrival in the desert where we will change the 4 × 4 for camels with which we can take a pleasant walk of approximately 1:30 hours in the desert dunes until we reach the  camp in the heart of the desert, where we will receive, according to the tradition of the Sahara Berbers with a tea.
Dinner and accommodation in desert camp under the stars of the desert.
Day 2: Merzouga- Rissani- Gorges of Todra, Dades Valley.
Let's watch the sunset over the sea of ​​dunes. After  having breakfast and shower in the camp we will return back by camels  to meet our driver again and  leave for  Tinghir "the mountain city" in Tamazight, another beautiful Berber village where we will delight with the contrast of its palm groves and the peculiar color to their homes follow the route where the landscape shows us their contrasts. We are in the Todra Gorges formed by rock walls of more than 200 miters and after the visit, we will go to the Dades Valley, a Berber village, famous for its imposing gorges and its view of the Atlas, now on the horizon .
Dinner and accommodation in hotel / Riad.
Day 3: Dades Valley- Rosas Valley- Ouarzazate- Aït Ben Haddou-Marrakech.
We will cross the Dades Valley and the Las Rosas Valley, until we reach Ouarzazate, where we will visit the Kasbah of Taourirt and after 25 km on the way we will see the Kasbah of Ait Ben Haddou, declared a World Heritage Site by UNESCO, famous for being the scene of film blockbusters like "Lawrence of Arabia", "The Protective Sky" or "Babel". We will continue the road passing through the port of Tichka that will take us back to the "red city of Marrakech. you  will arrive in Marrakech during the night.
Accommodation in hotel /Riad.