2 Days from Marrakech to Zagora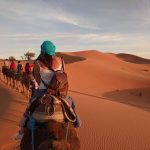 Day 1: Marrakech – Ouarzazate, Zagora (camel ride and night in the desert)
Departure from your hotel / riad in Marrakech at 7:00, we will go through the foothills of the Great Atlas Mountains and the famous port of Tizi-n-Tichka (2260m), along the way, we will enjoy the views of the valleys and the Berber villages. We will begin to descend until we reach Ouarzazate, where we will stop to visit the Kasbah of Taourirt.
From there we will go to the valley of the Dra, go along the old caravan route between the mountains and the river, which passes through many villages and gardens so that you can have a better idea of ​​the way of life of The oases. We will arrive in the afternoon more or less, we will leave the car to ride on dromedaries and head towards the dunes, to attend the sunset. We will spend the night in desert, dinner and accommodation (in the camp).
Day 2: Zagora – Kasbah Ait Ben Haddou – Marrakech
We get up early enough to see the sunrise, you will be rewarded for the wonderful play of shadows through the sand. After breakfast, we will return, taking the same road back to Ouarzazate, we leave the main road to reach the Kasbah, a UNESCO World Heritage Site Ksar Ait Ben Haddou, the most famous in Morocco. It has been used as the setting for many Hollywood movies and was one of the bastions of the most important fortress of the old salt caravan routes.
The Return to Marrakech is along the main road, which passes many Berber villages, along the river and through the mountains, Tizi-n-Tichka. We arrived in Marrakech already in the afternoon.